✨Hey there!
This post may contain affiliate links, meaning we earn a commission if you make a purchase through our links, at no cost to you. Please read our disclosures for more info.
This article contains affiliate links.
What is a Pedicure and Manicure?
What does it mean to have a Pedicure at a Spa?
What do you need to get started with your Pedicure Routine?
What are the Different Types of Pedicures?
Pedicure Tools: A Pedicure Guide
Pedicures are the act of treating your feet to a splendor of stimulation and cleansing. It's highly recommended that both men and women get their feet pedicured at least twice a year, this will help maintain good podiatric health. So many people ignore their feet because they think that feet do the dirtiest job of the body, balancing and walking everywhere, possibly sweating in shoes and harboring toe cheese. Fortunately, the pedicure and manicure were designed to treat these areas that need more tender love and care than most parts of the body.
That's why a pedicure is the most important aspect of personal hygiene that everyone should participate in. If you would like to treat someone to something extra special. Nothing is more thoughtful than a pedicure (with an extra 10-minute massage of course).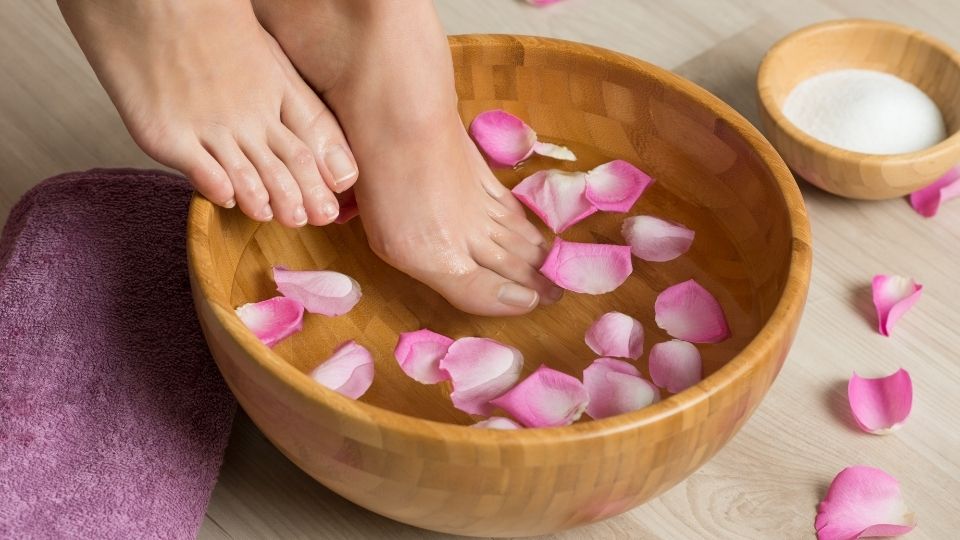 What is a Pedicure and Manicure?
A pedicure is an optional cosmetic treatment that involves the spa-like treatment to the feet and the application of nail polish, paraffin wax, cuticle oil, and lotion to the feet, toes, and nails.
A pedicure is usually performed by a person who provides care for the feet, toes, and nails.
A manicure is the same procedure but for the hands, usually with the treatment of natural nails but artificial nails have become more popular recently.
A pedicure is a single treatment of the feet, shin, and calves areas. A typical pedicure lasts from 30 minutes to one hour. A pedicure costs about $25-30 at a good salon.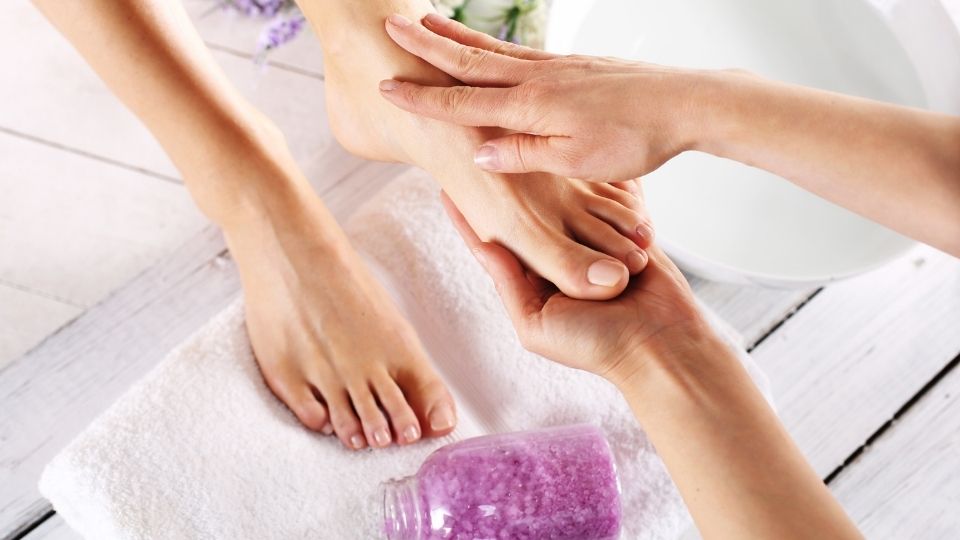 What does it mean to have a Pedicure at Spa?
Most patrons go into a salon and ask for a "manicure pedicure" (nail services), which is the staple treatment everyone should have. There will be several nail care services you can choose from to render a higher quality experience. Such as a green tea pedicure, or an aloe vera pedicure to spot treat problems, like rough skin or dry skin.
A pedicure for men would be treated the same way as a pedicure for women, and there doesn't need to be a coat of paint included. A nail technician can address issues such as ingrown toenails, nail shaping, nail repair, and remove corn on foot.
A nail pedicure at a spa is a process that includes the service of another person treating your feet and bottom half of your legs to a spa-like bath, grooming of your nails, treatment of the cuticles (pushing them back, and cutting them), exfoliation, massage, and special moisturizing of the skin.
In some cases, some spas will include gel that is applied to the feet and legs and then removed with a warm towel. This process is repeated until the skin is fully hydrated and soft.
In order to have a perfect foot pedicure result, hydrating the feet with a foot bath will result in the best pedicure ever.
Lastly, at some spas there will be an additional and complementary service to complete the pedicure, using the hydrating paraffin treatment. This treatment will make your feet feel smooth and hydrated after being soaked in warm water with a salt scrub.
What do you need to get started with your pedicure routine?
Doing a pedicure in your own home can be easy and inexpensive with the use of some basic tools.
Home Pedicure Kit
A Bowl or Foot Bathtub – This is essential for the home spa treatment, without it your pedicure will feel very basic.
Foot Soak Solution, or Bath Salts – Adding an extra dimension to your foot soak experience will boost the feeling associated with this type of pampering.
Your Pedicure Chair – Generally in spa salons, the biggest attraction lends itself to the infamous pedicure chair. The pedicure chair boasts a remote where you could control the massage you get while sitting down getting your feet pampered. The more features the chairs have the better the massage and spa experience. Some chairs can be reclined, have arm massage features, and make the pedicure experience amazingly luxurious. The spa basin on the pedicure chair also could have various water jets that promote a good amount of pressure for a foot massage. Check out this massage chair alternative.
Nail Clippers – The benefit of having your pedicure done at home is that you will be using your own exclusively owned toenail clippers as opposed to being treated with a utensil from a spa salon. you can regularly sanitize your equipment using a UV Sterilizer.
Cuticle Remover – Cuticle care may be necessary for you depending on how you like to treat your nails. Most of the time cuticles are grown out of the perfect depth on the nail bed and do not need to be treated.
A Pumice Stone – This is really quite a luxury, it brings your feet back to its natural state with gentle exfoliation. A natural porously hard stone that removes callus and dead skin. Check out this foot file.
Toe Separator – Used right before the application of nail lacquer / nail polish.
Nail Buffer – If there is unevenness on the bed of the nail, a nail buffer can provide a smooth exfoliation of the outer layer of the nail to even it out.
Nail File, also known as an "Emory board" – The most common household nail product, the nail file is needed to even out the edges of the nail to the shape you desire. Also, ideal to use on the sides of the toenail beds to prevent the nail from digging into the skin.
A Cotton Cloth – Will help keep you dry and can be used to clean up any water that may spill or splash.
Some Cotton Balls – The little piece of cotton that will clean up your nail bed before polishing.
Foot Cream – Thick moisture rich cream will help prolong the effect of the pedicured feet and it's nice to have a moisturizing massage.
Extras:
Storage Box – You should have a fairly large storage box, to contain all of your manicure pedicure tools
Polish or Laquer – To keep it simple, you can use a regular nail polish application that dries in a few minutes after painting the nail. There are other kinds of nail color applications such as powder, and or gel. Gel manicures last longer, are quicker to dry and have a longer removal time. The best natural alternative is to use "free-5", "free-7", or "free-13" nail polish.
Gel Pedicure – a gel pedicure would require another piece of equipment known as a UV light that helps quickly dry the paint substance. In order to remove a gel manicure, you would need to wrap your nails in cotton balls soaked in 90% acetone and foil. Amazon's Choice has an affordable UV Gel Manicure Pedicure set here.
Foot socks – It's a sock with the toe section removed, so you can enjoy the nail maintenance part of a pedicure while keeping the rest of your foot covered. Purchase the pedicure socks pictured above.
Hot stones – Using these stones might be a little extra, but no one has ever regretted using a set on the soles of their feet.
Foot Peel – A chemical treatment that will remove dead skin from the outside of the foot.
You can find more product details and any product description on Amazon, where there are plenty of highly rated, well-priced products and if you don't like the product the return policy and return method is a breeze.
Process:
The first thing you'll need to do is soak your feet in warm water for about five minutes. This will help soften your skin, hydrate the feet and clean the nails.
Next, using some nail clippers cut and even out your nails, and clip off any excess skin or hangnails.
Then file your nails to the selected style like square, or round nails. There are not many different styles for toenail designs (on pedicure feet). But the last thing anyone should have are toenails that are overgrown and hanging over the toe stub.
Next is "cuticle cleanup", you can use a cuticle pusher to push the skin on the nails back to shape the nailbeds a little more evenly. Then, you can use a cuticle remover on the edges of your nails if you have any excess cuticle growth, which tends to happen when the hands and feet are used a lot.
Buff any uneven areas of the nail bed using a nail buffer and place in the bathwater again to remove any dust left behind.
At this point, you can start the spa-like treatments by adding an exfoliating product to the feet and legs. You can use any sugar scrub you have, or make it yourself using sugar and olive oil/coconut oil.
Gently exfoliate the leg and feet, and using a pumice stone start to treat any callus areas on the bottom and sides of the feet. This pedicure for feet would be very similar to the typical manicure pedicure salon treatment.
Grab your favorite cream and apply generously to the shin, ankle, top of the feet, and soles and massage. Massage in an upwards motion to really get the blood flowing to and from the feet. The leg massage is the best part of the whole spa treatment.
Using your cotton rag or towel to thoroughly dry your feet and legs, the foot pedicure spa now moves into the application of nail polish. For men's pedicure, the pedicure y manicure could stop here. A man pedicure would only be the grooming and spa treatment unless the person wants their toes painted.
If painting, you will use some cotton balls on your nails pedicure to remove any residual polish from the nailbed.
Separate the toes, with a toe separator that could be made from foam (pre-bought) or at home using rolled-up paper towels.
Paint gently and swiftly, you can use a pointed cotton swab (like this one) to get the paint off the skin beside the nails.
Your content goes here. Edit or remove this text inline or in the module Content settings. You can also style every aspect of this content in the module Design settings and even apply custom CSS to this text in the module Advanced settings.
What are the different types of pedicures?
The "Medical Pedicure"
A "medi-pedi", or "medi-pedicure" is a hygenic and aesthetic treatment of the feet to promote healthy and nurtured feet, toenails, and overall muscle and bone structure. A nail tech trained in podiatry would assess and treat your feet for any health condition; such as nail fungus, irregular nail growth, nail infection, and other cosmetic problems. You can also ask for a medical pedicure at salon of your choice, to see if they have a foot specialist.
The "Home Pedicure"
Pampering your feet in a spa is not always possible, The Home Pedicure is a foot-SPA treatment that would include most of the essentials from a nail salon.
The first step is to make sure you have everything you need. This includes a big bowl of water or foot spa contain, your favorite nail polish, and the essential tools needed for the job (as shown above).
The best way to get a pedicure at home is by cleansing your feet. This should be done before applying a foot scrub and removing dead skin cells from your feet. To do this, you should put a warm bath in the tub and soak your feet for about ten minutes. After soaking them, use a towel to dry off your feet and then use a pumice stone to grind away the dead skin cells, do this gently and add pressure where you deem necessary
How to do a Pedicure in Home
Most people are scared of doing their own pedicures. It's not because they don't know how to, but because they might feel they just don't have the right tools for the job. There are some tricks you can do to make the process less tedious.
A pedicure is a beauty treatment that includes manicuring, exfoliating, and scrubbing the feet. It is commonly done in salons but can also be done at home. To do a pedicure at home, you can buy most equipment, in an already existing pedicure kit, like this 23 in 1 stainless steel foot care kit for a home pedicure. This will help you make sure you've got all of the tools necessary for the job.
Soak your feet in warm water and apply a foot scrub that will help remove any dry skin. If you don't have a foot tub, you could fill your actual tub with half a foot of water and soak. Make sure to lay a towel down on the floor, just in case water splashes.
After the feet are clean, you can start the grooming process to the tired feet.
What is a gel pedicure?
A gel pedicure is a type of nail treatment that uses gel ( an acrylic mixture) and UV light to coat the nails. The process involves applying a base and two coats, in which each coat of paint would need to be cured with the UV light.