✨Hey there!
This post may contain affiliate links, meaning we earn a commission if you make a purchase through our links, at no cost to you. Please read our disclosures for more info.
This post contains affiliate links
What is a Crystal Gemstone? | Green Crystals Meaning
What are the Benefits of Green Crystals | How to use Green Crystals in Daily Life?
Lime Green Crystals
Aventurine Crystals | Green Flourite
Light Green Crystals
Green Agate | Malachite Crystals
Dark Green Crystals
Emerald Crystal | Green Obsidian
What is a crystal gemstone?
A crystal gemstone is a type of mineral with a very specific structural composition. Crystals are formed when trace minerals come together in orderly patterns by the application of heat and pressure.
Factors such as the type of gas that escapes the earth's crust, the different amounts of pressure, and the rate at which these gases are cooled and reheated created different crystalline structures. The amount of pressure, heat, location, and minerals will determine the structural composition of these stones and their crystalline system.
"Gemstone" is a word for any mineral with a crystal structure that can be cut and polished into a gemstone, including most natural crystals found in their natural settings.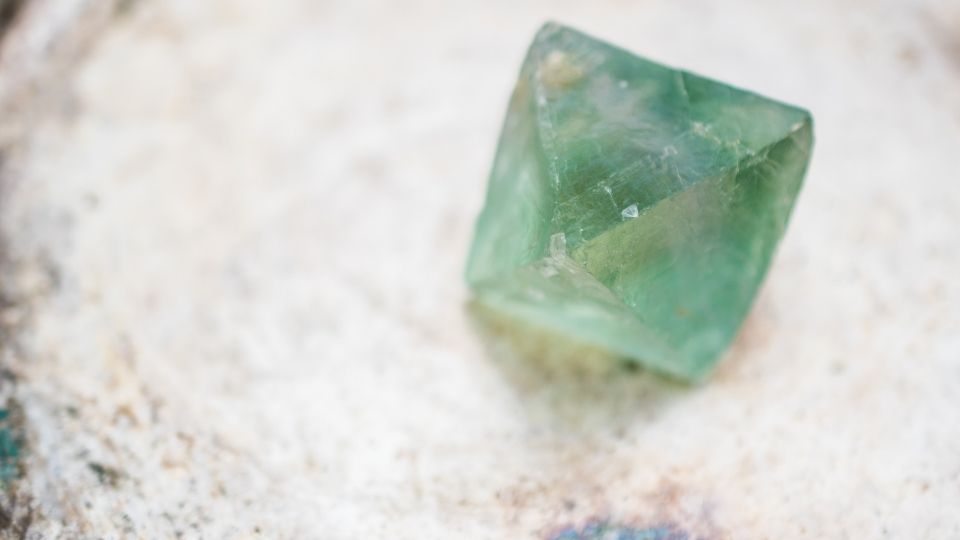 Green Crystals Meaning
Green crystals happen to resonate closely to the heart chakra, the planet Venus, nature, and prosperity. Representative of the color of nature, green crystals instill feelings of luck, emotional healing, and compassion.
As mentioned above, green crystals can be formed from various geological processes. Green crystals are believed to have a variety of effects, including stress relief and anxiety. They also bring money luck and balance to your life. You can lay your crystals out intentionally to produce and amplify these effects, to learn more about the process check out our article on using crystals.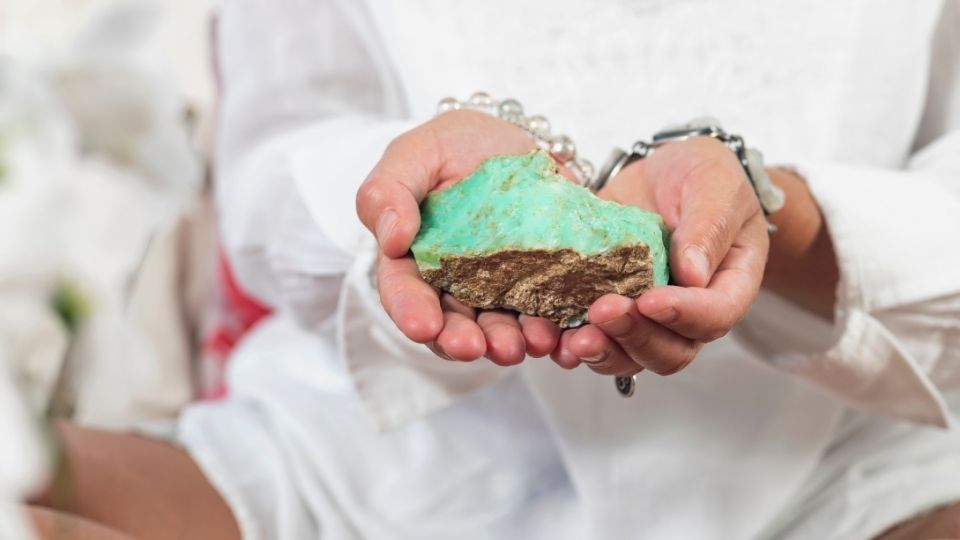 What are the benefits of green crystals?
Green crystals are a powerful tool in the conscious mind. They can be used to help with manifestation and self-love when practiced with intention and mindfulness.
Some interesting green crystals include Malachite, Aventurine, Green Obsidian, Green Agate, Emerald, Jade, and Peridot. Some of these stones are very popular and may be used regularly in jewelry, such as the peridot crystal which is regarded as a precious green gemstone.
Green crystals are said to help with stress and anxiety, perhaps as it has to do with color psychology. Most crystals have their own healing properties and emanating qualities.
For example, Jade is a popular green crystal that has been used to improve health and well-being for centuries. Jade symbolizes the natural restorative healing power of nature. They have a calming effect on one's energy flow, and they help to balance the body's energy.
May babies will enjoy the healing properties of green crystals such as from the Emerald. If you wish to find green crystals, many of them are sold on many online jewelry or gemstone websites and can be found in local spiritual stores.
Green crystals have been used for centuries in jewelry and accessories such as necklaces, bracelets, earrings, rings, and other types of ornaments. They can be used in gemstone jewelry and for everyday wear.
Your content goes here. Edit or remove this text inline or in the module Content settings. You can also style every aspect of this content in the module Design settings and even apply custom CSS to this text in the module Advanced settings.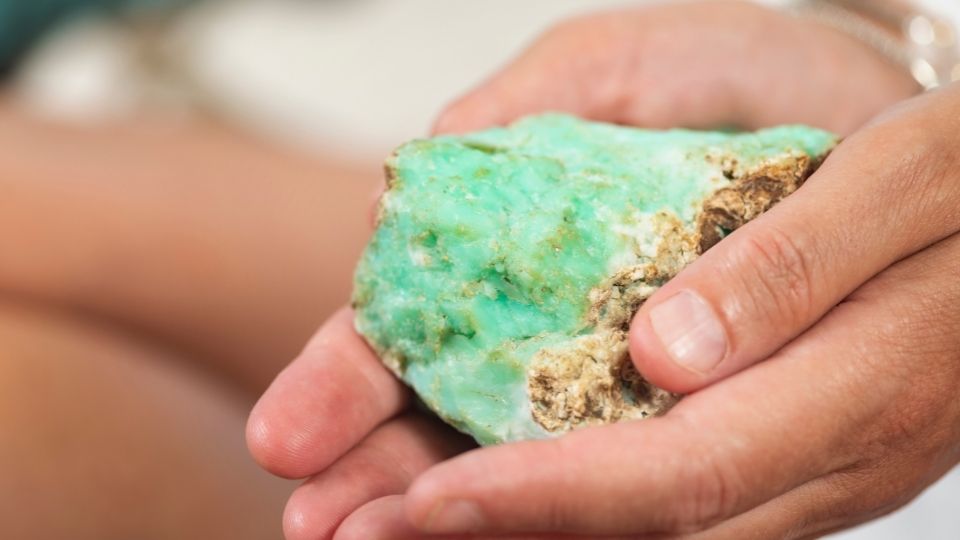 How can you use green stones or crystals in your daily life?
Green crystals and stones can be used in many different ways. They can be used to bring peace and calmness into your life, or they can help you clear negative energy from your aura. You can also use them in healing or cleansing rituals for various ailments that may be affecting you.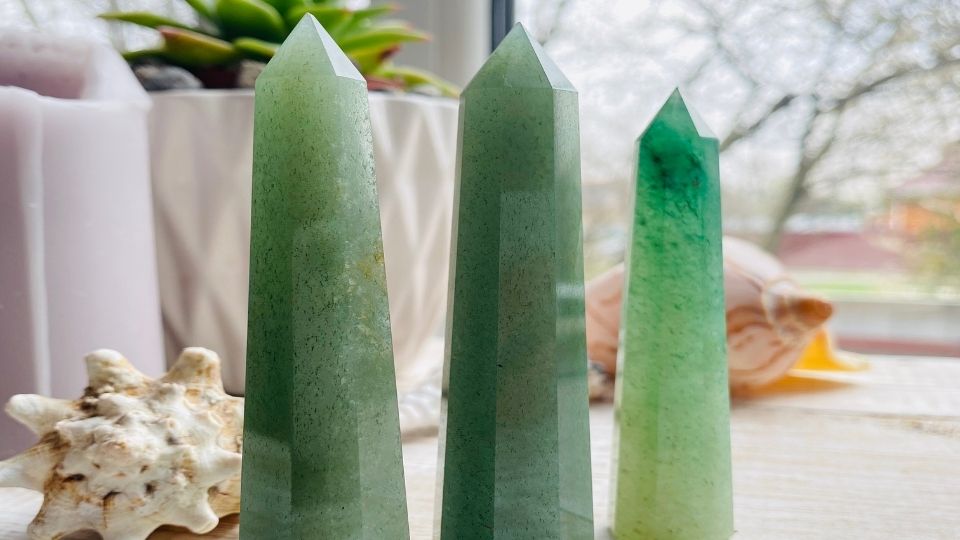 Green Crystals Names
This list includes various types of green crystals that are cohesive in color. Other crystals that are considered green in color actually come in a mix of various colors but can be predominantly green. Check out the crystal catalog for more information.
If you are going for a certain aesthetic, below are the crystals further categorized the by different shades of green.
Lime Green Crystals
Aventurine crystals
Aventurine is a style of green quartz. It's most commonly green but can also come in shades of blue, red, orange, grey, and brown. It has a shimmering quality that is known as aventurescence, because of the platy minerals in the quartz. Aventurine has been used by many cultures throughout history. Most Aventurine is found and mined in India by local artisans.
Healing and Spiritual Uses of Aventurine Crystals
Aventurine's meaning is prosperity and confidence. Aventurine relieves stammers and severe neuroses. It stimulates perception and increases creativity. Aventurine has an anti-inflammatory effect and is good for the eyes and skin. It heals the lungs, sinuses, heart, muscular and urogenital systems.
• Aventurine is known as a stone of good fortune and prosperity.
• Aventurines are believed to bring good luck and happiness.
• Aventuri is a symbol of protection.
• Aventura is a symbol of strength and power.
• Aventuras is said to protect against evil spirits.
Best Aventurine Crystal for Wearing
Best Adventurine Crystal for your Altar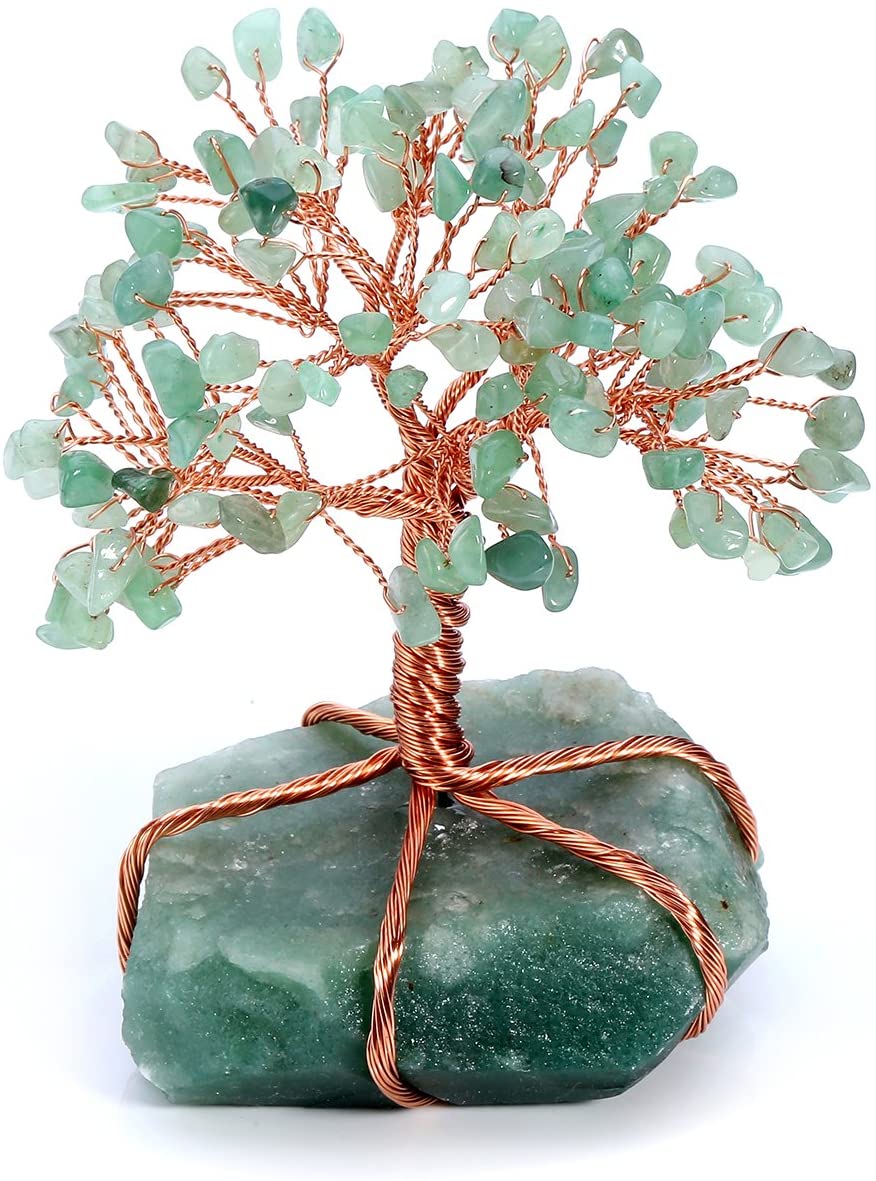 Best Aventurine Crystal for Decoration
Best Aventurine Crystal for Budget
Green Flourite
Green fluorite is an amazing crystal that has been used for thousands of years to improve mental clarity and enhance creativity. It is said to increase self-confidence and boost energy levels. It also helps you to keep calm and collected during stressful situations.
Green fluorite can be found in its natural form in the mountains of Tibet and Nepal. However, it is also available in synthetic form.
– Helps you to stay focused and clear headed.
– Boosts your energy levels.
– Increases your self confidence.
– Makes you calmer and more relaxed.
– Helps you deal with stress.
– Improves your memory.
– Enhances your creativity and artistic energy.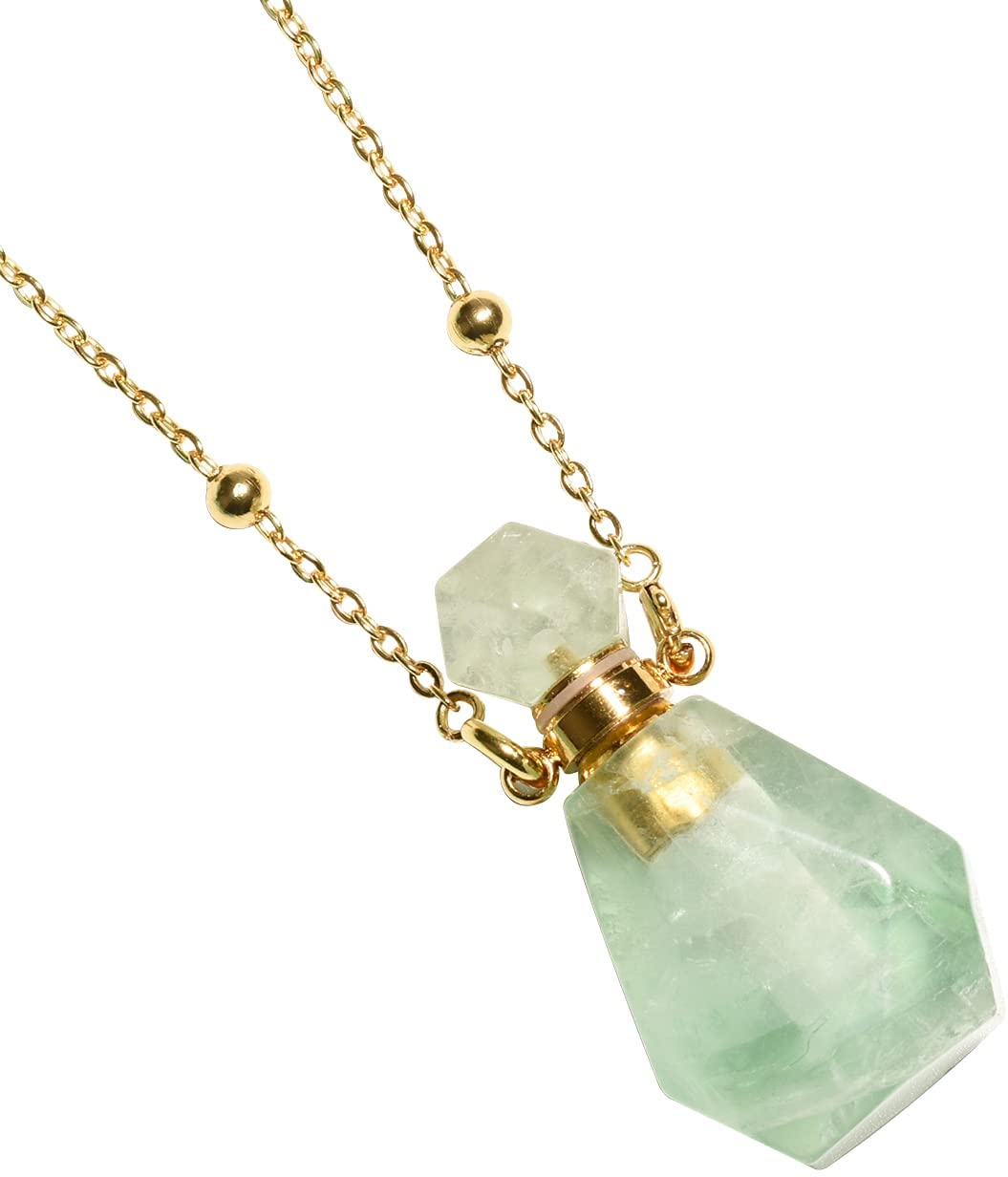 Green Flourite Crystal for Wearing
Green Flourite Crystal for your Altar
Green Flourite Crystal for Decoration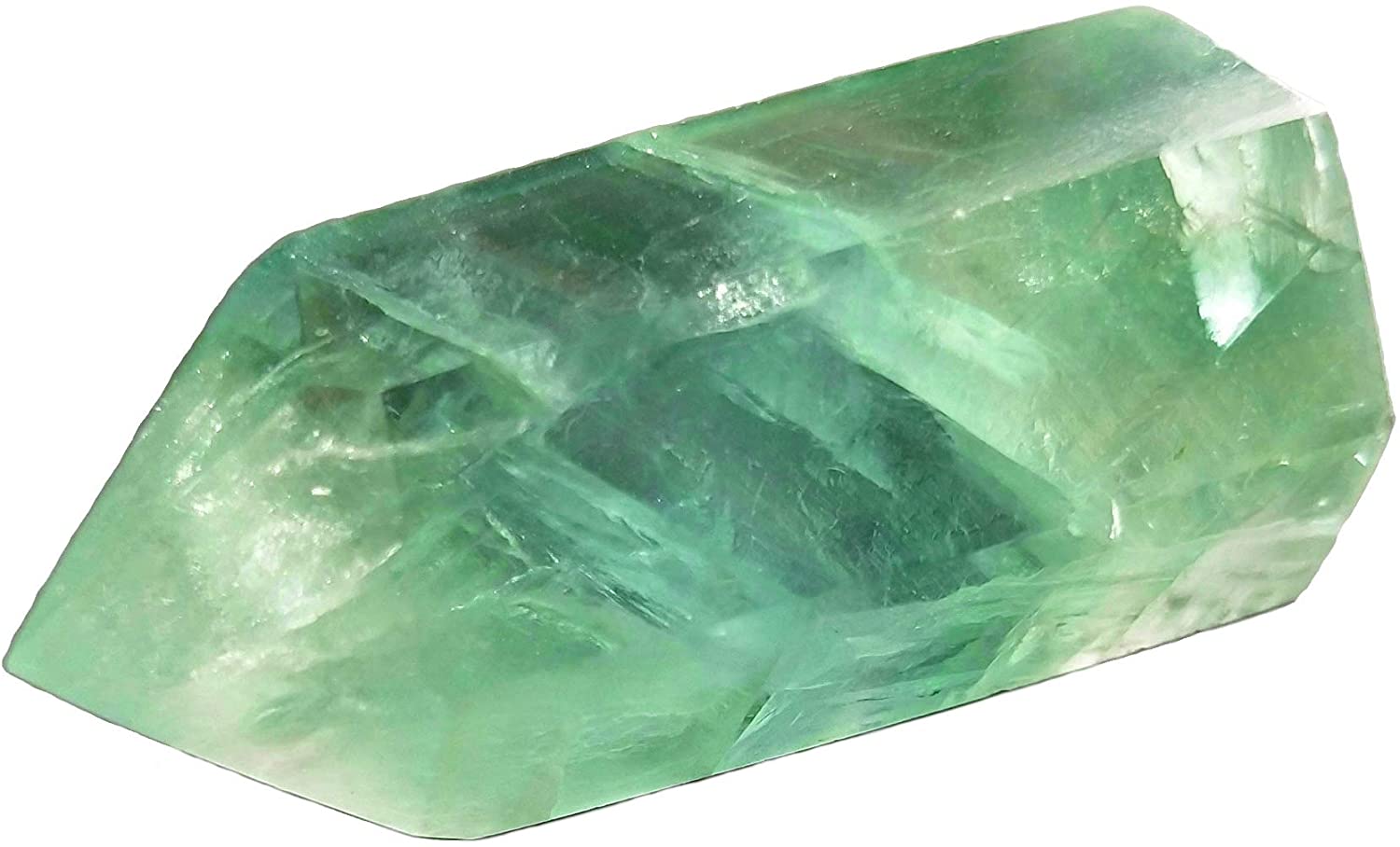 Green Flourite Crystal for Budget
Light Green Crystals
Green Agate
Green agate crystals are an amazing stone that has been used for thousands of years to heal people. It is also known as the "stone of health" because it helps to balance the body and mind. Found all over the world, it has been mined in Western American states such as Oregon, Washington, Idaho, and Montana.
Green agate is a natural crystal that comes from the green variety of agate. It is a beautiful stone that is often found in nature. It is believed to bring peace, compassion, and tranquility to the user.
Green Agate Crystal for Wearing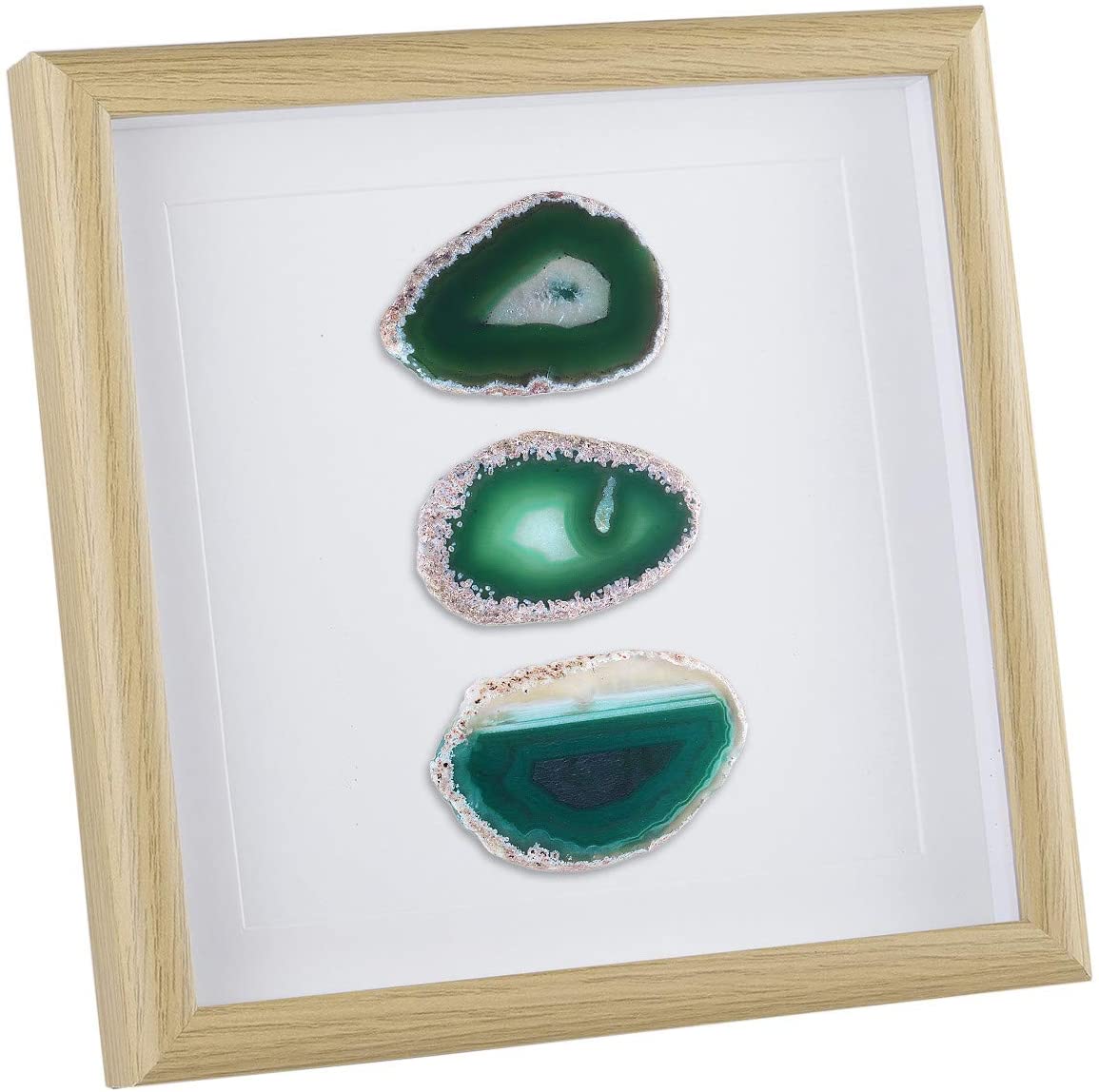 Green Agate Crystal for Decoration
Malachite Crystals
Malachite crystals are a type of formation that is found in several different forms in nature. Pure Malachite crystals come in an Acicular (cluster of slender crystals on a base) shape and are rare. Most being mined from Urals, Russia.
Malachite usually comes combined with other mineral formations such as Azurite, goethite, and calcite. In this form, the crystals are fused and overlayed over one another. Malachite is a carbonate hydroxide and copper mineral with a lustrous green luster. The production of copper is sometimes sourced from malachite crystals.
Spiritual and Healing Uses of Malachite Crystals
Historically Malachite crystals were given to younger people and children to aid in sleeping, and in the protection of mental and physical health. The healing properties of this crystal are said to help many ailments such as heavy perspiration, elevated heartbeats, and high blood pressure.
• Malachite crystals aid in anxiety-driven symptoms, inducing feelings of calmness.
• Malachite crystals can aid in protecting the mind and body from negative patterns, such as depression.
• Malachite crystals are also known as the midwife stone, aiding women through their reproductive health issues such as menstrual cramps, and child labor.
Best Malachite Crystal for Daily Wear
Best Malachite Crystal for your Altar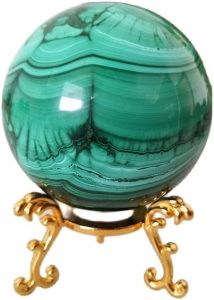 Best Malachite Crystal for Decoration
Best Malachite Crystal for Budget
Dark Green Crystals
Emerald
Emeralds, a very popular birthstone that is adored for their dark green hue and romantic allure. Rough gemstone emeralds have been found all over the world but are majorly found in Colombia and Brazil in South America and Zambia in Africa.
Probably, the most expensive of all the green crystals; Emerald, a typical gemstone for jewelry making, is popularly found for sale online, set in necklaces, earrings, and bracelets (the best way to safeguard your precious stones is to wear them). Emeralds are comparable to Green Diamonds and are far superior.
They also happen to be known for their healing properties. They are believed to bring peace, happiness, and prosperity. In ancient times, people used emeralds to protect themselves against evil spirits. Today, they are still used for protection and healing.
– Emeralds are believed to bring peace and happiness.
– They are believed to protect against evil spirits and bad energies.
– They are used to heal many ailments.
– Wear an Emerald pendant to attract good luck and wealth.
– Wear an emerald ring to attract love and romance.
– Wear an earring to attract success and prosperity.
Green Tsavorite Garnet
Named after the origin of its discovery, the Tsavorite Garnet is an exquisite green stone from the Tsavo, Kenya. This garnet is considered one of the most valuable and prized colored gemstones on the market. It is a natural and rare, green to blue-green gemstone that can sometimes be confused with Emeralds.
After its discovery in 1967 by Cambell Bridges, a famous geologist; Tsavorite was mined from the deposit of a Kenyan National Park. In 1974, Tiffany and Co. began a marketing campaign to bring attention to these special and rare remnants of earth.
Healing and Spiritual Uses of Tsavorite Garnet
– believed to accentuate the beauty of the beholder
– believed to aid in emotional distress
– connected to the heart chakra, promotes feelings of peace
Best Tsavorite Garnet for Daily Wear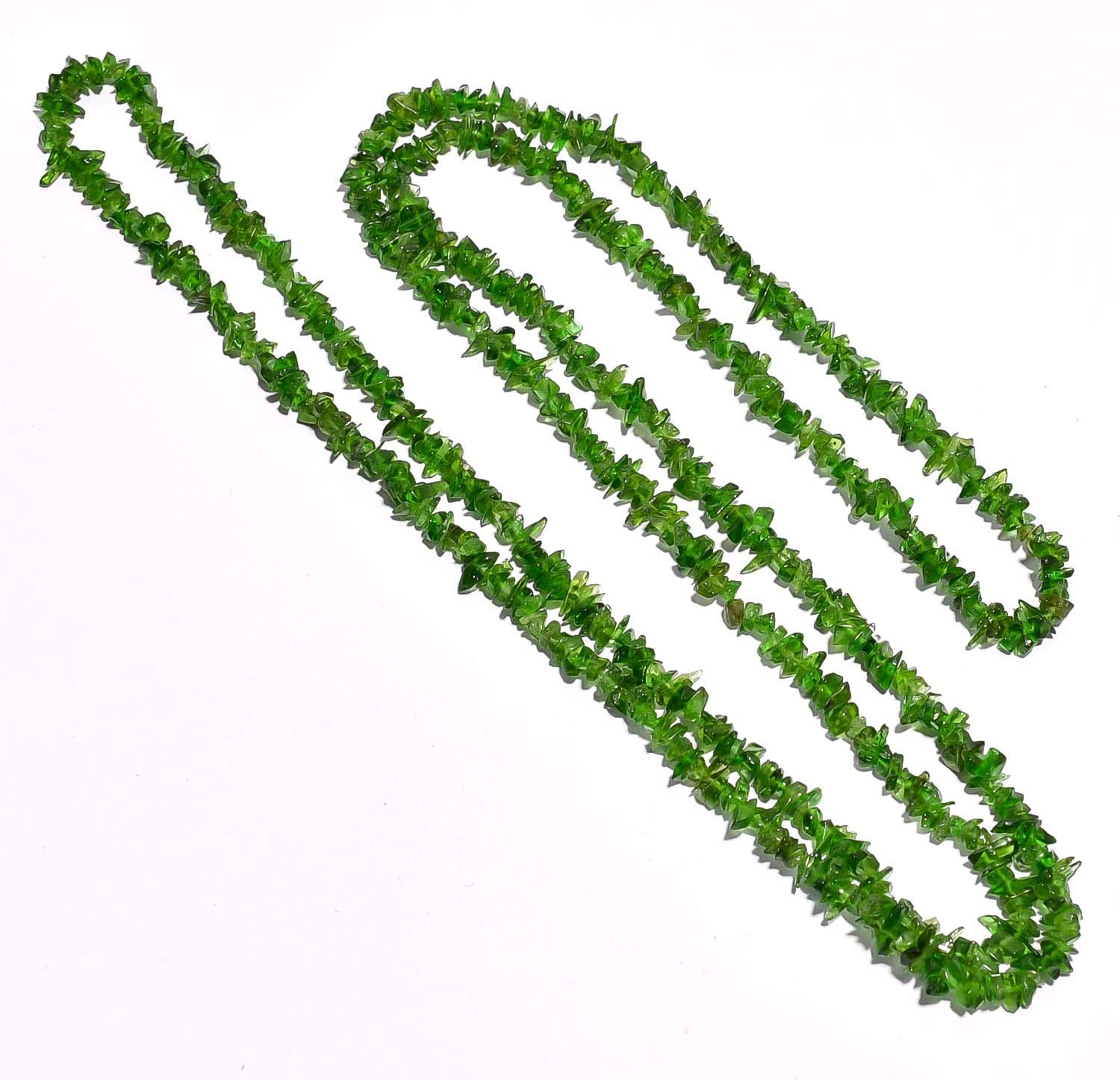 Best Tsavorite Garnet for Budget
Green Obsidian
Crystal Green obsidian is a type of volcanic glass that has been used throughout history for its healing properties. It is believed that green obsidian was first discovered in the Andes Mountains of South America where it was used as an amulet, bestowing special powers.
It is a rare crystal that is generally formed from lava that is high in silica, iron, and magnesium. It is predominantly used as a beading gemstone.
Today, green obsidian is still used as a powerful tool for healing personal power and spiritual growth. In fact, it is often referred to as the "Stone of Transformation" because of its ability to transform negative energy into positive energy. It is oftentimes used in meditation practices, as it can help transform regular thoughts into a deeper trance like awareness and consciousness.
Green obsidian is also known as "the stone of transformation" because of its power to transform negative energy into positive energy, bring about clarity, and promote heightened empathy.
Green Obsidian Crystal for Occassional Wear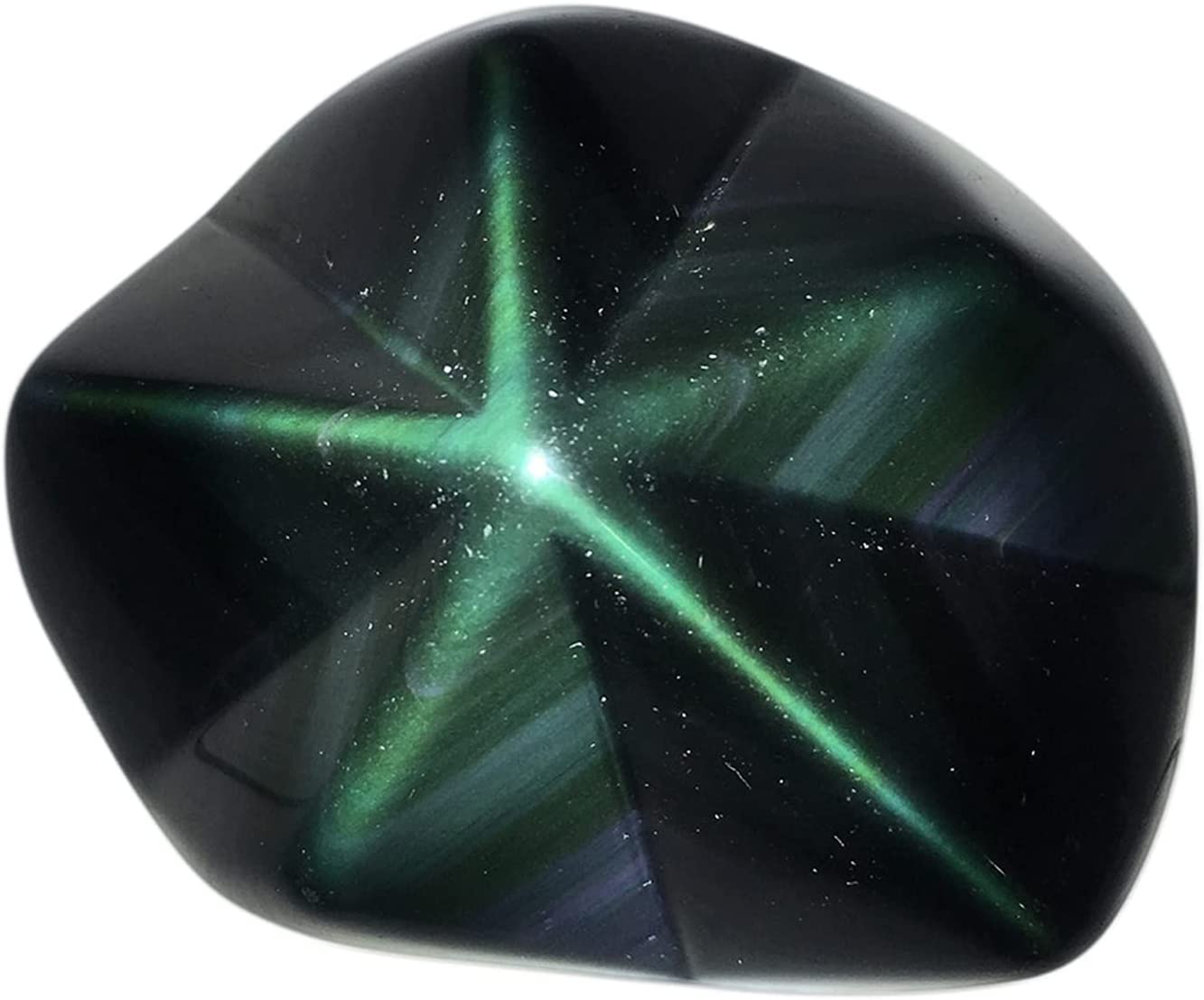 Green Obsidian Crystal for Decoration
If you are interested in learning more about green-colored crystals, such as Jade Stone, Green Tourmaline, blue-green crystals, and grey-green crystals, be sure to check out our blue-green crystals post here.
For a variety of crystals like rose quartz, check out our crystals catalog.